As in Sandra Boynton.
I LOVE Sandra Boynton's books. LOVE LOVE LOVE them!
From
Moo, Baa, Lalala
to
Hippos Go Berserk
and everything in between, Boynton's books are an absolute must for any kid under the age of... oh, I don't know, 150 or so.
I think my favorite is
Blue Hat, Green Hat
. Mister loves
Oh Me, Oh My Oh Dinosaurs
. I'm not sure which is Boo's favorite. Her concept of what an author is is still shaky, so asking her to think of which books are Boynton's (many of which we sadly don't have) and pick something... probably not going to happen. In listing some of the books to her, she says she likes "the turkey one", so there's another vote for
Blue Hat, Green Hat
.
Our latest find, though, is
Blue Moo
. (17 Jukebox Hits from Way Back Never.)
Blue Moo
comes with a fun cd, the words to all the songs, and, of course, Boynton's classic illustrations. Also, perfect for a young pianist, the music (simple melody line) is included also! How fun is that?!
Some of the songs included are "Speed Turtle", "The Uninvited Parade", "Gorilla Song", "Your Nose", and naturally "Blue Moo '62".
The main reason we checked it out, though? "I Want to be Your Personal Penguin". I have a penguin obsession.
Here are some pics/links to Boynton books: (I love
What's Wrong, Little Pookie
-- it's so Boo.)


Shop Indie Bookstores


Shop Indie Bookstores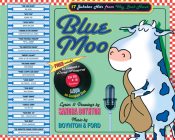 Shop Indie Bookstores


Shop Indie Bookstores